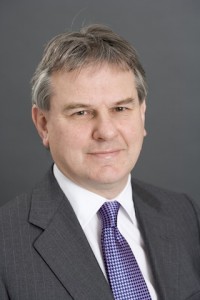 Contact 07773 428369 or mail andrew.parnell@footprintsoflondon.com
Andrew is a City of London Guide and is an Associate of the Institute of Tourist Guiding.
Andrew's goal in all his guided walks is to amuse, surprise and move his audiences as well as to inform them. He aims to share with them some of his fascination and enthusiasm for London, its history, institutions, architecture and, above all, its people; to find clues on London's streets to the lives of Londoners down the ages, from the Great and the Good of Westminster and the City to the destitute of the East End; and to relate some of their stories – stirring and sad, frightening and funny, weird and wonderful.
Born and brought up in London, his working life spent in London's West End and City financial district, Andrew is proud to have been described as "that rarity, a lawyer with a sense of humour"! He is a fan and season ticket holder of a great North London football club.
Andrew was awarded the Katrine Prince Prize for Best Practical in his City of London guiding examinations.
Andrew's walks include:
Gallows, Graves and Grave Robbers: Walk to places where men and women were publicly put to death for their crimes or beliefs in the City of London. See where they were tried for their lives, where bodies were snatched and where they were sold. See where Rumpole worked and Braveheart died.
Banking Institutions of the City of London: See the street where banking began in the medieval City. See where 18th century merchants founded the Stock Exchange and Lloyd's of London over drinks of coffee. Pass some of the City's tallest and best known buildings. Wind your way through some of the City's maze of narrow, medieval streets and alleys.
Wren and the Riverside: The water's edge in the City of London was for centuries a thriving port. Pass where countless commodities were landed and loaded. See a dock surviving from Saxon times and the site of London's first public convenience. Weaving through the narrow dockside alleys, see some of the beautiful riverside churches of Sir Christopher Wren.
Jack the Ripper: Walk the streets trodden by the notorious serial killer; see where he committed some of his dreadful crimes and hear about each murder and the sad lives of the women he killed.
Fleet Street – Sacred Site to Street of Shame: From being the home of royalty and religious communities to the centre for printing, publishing and the press, not to mention being the scene of one of history's most notorious crimes, Fleet Street and the area around it represent one of London's most colourful and rewarding places for a stroll.
Temples to God and Mammon: Landmarks in the City of London: A tour through the Square Mile taking in some of its greatest and most ancient places of worship, the Guildhall from which it has been governed since Saxon times, the Bank of England at the heart of its financial industry and other sites of significance and curiosity.
Selected feedback from clients:
"I want to thank you for the excellent tour last night. It was thoroughly fascinating and a great blend of facts and dark humour." KP
"Thank you for the wonderful tour around the City of London. I will be sure to spread the word about you." AP
"It was great fun." KW