David is a qualified City of London guide who was born in Bethnal Green, East London, in 1964 and has never seen any reason to move out. His speciality is hunting out London's unregarded nooks and crannies which are just waiting to tell their stories to those who pass them by. A medievalist by training, he also has a healthy interest in crime and in philanthropy, the two sides of humanity displayed dramatically in London's story, as well as an interest in London fiction.
Though he guides in the City, David is engaged actively in developing guiding in his native Tower Hamlets. He is a tutor for the Walkie Talkie adult education course, which gives an introduction to guiding in the borough, and is involved in the Tower Hamlets Walkshop, a workshop project which is at the heart of the guiding initiative in Tower Hamlets. He is also the author of 'Death and the City', a collection of twelve stories exploring London's past and present through its relationship to death and the dead. More details can be found on his website http://charnowalks.co.uk/.
 Portfolio Includes:
A Helping Hand – a celebration of charitable and related enterprises in the City
Before the Make-Over – a journey into the pre-Fire City, tuning in to echoes of Plantagenet and Tudor London
Law and Order EC – an exploration of the City's unique role in the enforcement of law and order
To Make the Punishment Fit the Crime – sites in the City associated with the problematic issue of judicial punishment
Engineering Change – revealing how engineering ventures both helped and helped shape the City and London in general
The Battle for Bethnal Green – an exploration of how semi-rural Bethnal Green met the challenges of the new Metropolis
The Dark Side of the Green – chapters in Bethnal Green's criminal history, and their context in the world of law and order
Looking for Clues – a tour that reveals the stories behind otherwise unheeded clues in Mile End Old Town and Bethnal Green
Tidemarks from the Pool – a voyage to discover the heritage of maritime trade east of the Tower of London
Behind the Magic Curtain – Theatreland's story from the Restoration of 1660, told through its theatres
Of Commonwealths and Kings – a consideration of Westminster as seat of government and as the creation of the monarchy
Feedback from Clients includes:
"Future visitors would be well advised to hire Mr Charnick's talents to enrich their knowledge about this fascinating town, with or without fog" (NB, New York)

 "I have brought friends and family members on a couple of Dave's walks and every single person told me afterwards (when we were speaking alone) that they enjoyed the walks very much" (DW, Theydon Bois)

"The level of knowledge on Charnowalks feels much deeper than on other walks I have been on" (MJ, Cambridge)

"David was a fantastic guide, and we all enjoyed his numerous stories and appreciated his willingness to answer our questions" (HS, London)
Walks currently on Footprints of London:
Sat, 25 Mar
Description:
This tour takes in nearly 2,000 years of unrest: from Roman times the City has been a target for rebellion and revolt for groups with very different objectives.
Sun, 26 Mar
Description:
With readings from Iain Sinclair, George Orwell and others, this tour explores the rich story of Bethnal Green, one of crime and poverty, but also one of resilience and survival. Through their words we engage with the human currents of Bethnal Green and its unique flavour.
Sun, 2 Apr
Description:
While Shakespeare is the stuff of legend, he was in so many ways a typical Londoner. In fact, to explore the story of Shakespeare in London is to appreciate an exciting time of social advancement and international development, with London at the centre of England's coming of age.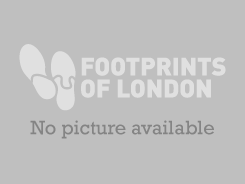 Sun, 9 Apr
Sun, 23 Apr
Description:
This tour explores aspects of trade in Shakespeare's London and how it provided valuable material to him and to his fellow dramatists
Sun, 30 Apr
Description:
The story of London's Theatreland and of how it has contributed to the development of performance – as told by its playhouses and personalities.