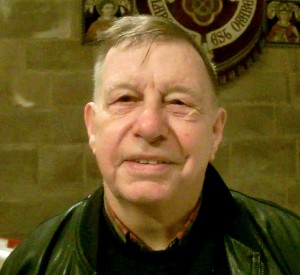 Contact Guy:
Guy Rowston is a qualified Westminster Guide and an adult education lecturer on various aspects of London's life and history. He is particularly interested in London's architecture. He is also a Southwark Cathedral guide, a member of London Historians and the Victorian Society. He studied English literature at Oxford and has worked in theatre, television and the arts.
'I've lived in London 50 years and the constant revelations of something old or new around the corner continue to amaze me and I want to pass on these discoveries to other people.'
Amongst his walks are:
The Bells of Shoreditch: furniture making, Elizabethan theatres and a circus skills school; Bawdy Bankside and its 23 brothels; Doing the Lambeth Walk: two palaces, a pottery, Royal gardeners and housing estates; Huguenot Soho: Where the Huguenot community created luxury goods for the Court; Wandsworth: on the Wandle delta; The Lodger of Lant Street: Dickens south of the river; Kensington North and Kensington South; 'A Fine and Quiet Place': Kensal Green; Go West, Young Man! Brunel, Paddington, Alan Turing; Lord Byron's London: the West End backdrop to his colourful life; Architectural Marmite: the Barbican estate; Walthamstow, Richmond, Ealing, and outside London: Rochester, St Albans and Canterbury.
Walks also tailored to your requirements.
Guy also lectures on various London history topics including:
The Life and Times of Wenceslas Hollar. Famed for his Long View of London, Hollar not only produced artistic prints but was an accurate observer of the turbulent 1640's. After exile during the Commonwealth, he returned at the Restoration to record London's great events.
The Lodger of Lant Street. Charles Dickens' London south of the Thames. We hear of Shakespeare on horseback, the Gordon riots, Bedlam and the South London novel Little Dorrit.
Are You Being Served? From street markets through aristocratic shopping to department stores and international brand franchises. Why did Peter Robinsons have a tailoress and hansom cab on standby? Why did Lady Florence Paget leave by a side entrance of Marshall and Snelgrove? The answers are here.
Southwark Story One of the most colourful areas of London. Once an Elizabethan leisure area, it became industrialised. Once more it's the playground of London with Tate Modern and Shakespeare's Globe. It's the home of two cathedrals, Europe's tallest building and London government.
1000 years of Greenwich 2012 was the 1000th anniversary of the martyrdom of St Alfege at Greenwich. St Alfege's church is the repository of much of the area's history. We hear of composers, soldiers, Antarctic explorers, thriller writers, Court musicians, a Royal wedding, the origins of the National Gallery and the Greenwich time-signal.
London in a Coffee Cup  In London coffee houses revolutions have been plotted, intellectual societies founded, pamphlets published, and pleasures enjoyed. Hear how coffee came to London. How slaves were sold and a dolphin dissected in a coffee house. How rock 'n' roll and skiffle began. The arrival of the expresso machine and the rise of the coffee chains including you know who.
Tea for Two  Who invented 'afternoon tea'? Which tea was responsible for a museum and two theatres? How did an ABC teashop waitress alter British fashion? Is the Swiss roll Swiss? See how the English teashop featured in literature, art and music.
Huguenot Soho. When French Protestants fled to England in 1685 one group moved into Soho: goldsmiths, mapmakers, furniture makers, carvers and gilders who provided luxury goods for the Court of St James. A picture of 18th century life in Soho.
Lord Byron's London Byron spent only four years in the capital before leaving England for good. It was here 'he woke up famous', gambled, harassed his publisher, visited the theatre, attended bals masques and was involved with Lady Caroline Lamb. The West End forms the backdrop of his activities.
Views of the Thames From medieval illumination to French Impressionists, artists have depicted the Thames upstream from London Bridge for six centuries. Some strove for accuracy (and sometimes failed) others for artistic achievement. A wide variety of visual delights.