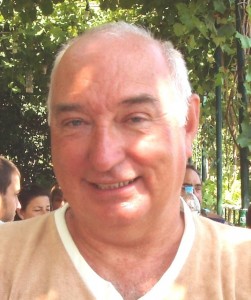 Contact 07908407182 or mail jiff.bayliss@footprintsoflondon.com
Jiff is a Clerkenwell & Islington Guiding Association and a Camden Greeter who, after living in north London for 40 years, developed his trade in Islington and Camden.
Originally from Woolwich, S. E. London and after 35 years working in social housing, Jiff used his local knowledge to develop a range of walking tours on his doorstep. Jiff evokes up to 2000 years of history by drawing attention to sights that are visible to all but not always seen and using them to describe associated people or events.
His current walks include a tour of Smithfield and Finsbury's more gruesome last resting places, the lost burial grounds of Islington and how Bohemia came to Camden Town…and stays there.
These walks can be adjusted on request to cover any additional interest.
In addition, Jiff is able to provide bespoke walks on request of any part or aspect of either Borough.
Jiff has taken people from around the world to his favourite London haunts having welcomed visitors from Britain, mainland Europe, North America and Australia.
He has now expanded his range to include tours of the medieval town of Rye in East Sussex and mini-bus tours of the WWI battlefields of Belgium and northern France. Jiff is also a member of the Islington Archelogical and History Society, Camden History Society, the Highgate Literary and Scientific Society and the Friends of the Rye Museum. He volunteers in the Islington Museum where he has contributed to exhibitions.
Jiff's walks portfolio includes:
Walk Macabre: A tour of some of the famous and often gruesome last resting places of Smithfield and Finsbury, south Islington (1½ hours, St Pauls to Old Street)
With the Angels: The lost burial grounds of Islington; their history and (surprising) current uses. (1½ hours, Old Street to Kings Cross)
Hidden Canonbury: The many gems of a venerable part of Islington from a tower built by a King's architect to George Orwell's last home. (1½ hours, Highbury and Islington to Angel
Camden Town: Music, movement and markets: How Camden got its Bohemian character and how it sustains it. (1½ hours, Mornington Crescent to Chalk Farm)
1000 years of Rye (East Sussex): From Cinque Port to Smuggling: How Rye developed from a small island to the principal port of Elizabeth I and the home of smuggling gangs, crime and ghosts. (1½ hours, Beginning at Rye Train/ Bus Station (Southern Railways), finishing in town but easy walk back to the station)
Jiff also undertakes a mini-bus tour:
The WWI Battlefields of Belgium and northern France: A 3-day tour of Ypres, Passchendaele (Belgium), Vimy Ridge and the British and Empire sections of the Somme battlefield (Gommecourt to Pozieres) (3 days – London to London staying overnight in Ypres and Arras) (Price on request)
Feedback from people who have enjoyed his walks includes:
"It was a good walk, learnt lots of interesting stuff, and thanks very much …. I think Gxxx is back June/July with his wife for a holiday and we'll try to get some dates from him for a Walk Macabre." JS, London
"Jiff was very flexible timewise and asked for our interests beforehand. He showed us around Camden, told us about the history and then led us through the maze of markets." ST, Germany
"Very good guide, clearly knowledgeable and enjoys the subject" IR, Brighton