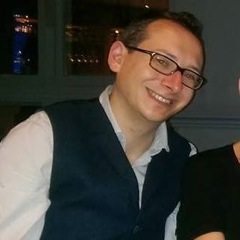 email:
I am a member of the City of London Guide Association and a member of the Institute of Tourist Guiding from North London
What I enjoy the most is hunting out London's hidden alleys, and secret locations and inviting people to marvel in the incredible stories of the people of the past which they might otherwise just pass by, usually as its far more unbelievable than fiction. With so many things to do and find out, the depth of the City's wonder never seems to end which is marvellous.
I'm a great lover of stories and the human element to London's history and enjoy highlighting the wow factor to people who are both familiar and unfamiliar with the City.
I especially enjoy the many great churches of the City and how they lie at the very heart of the community, but also am an avid fan of London Transport and have more than 7 years' experience guiding within the London Transport Museum.
Although I specialise in the City I can tailor walks to meet people's needs, including memorable places to eat and drink at the end, am very social and frequently enjoy socialising with the group afterward.
Walks include:
• Dark & Hidden London – Hidden and secret alleys and passageways throughout London's heart, transport you back in time to walk the same routes which great men and women have over the past 2000 years.
• Ghosts of the Past – An evening walk through the heart of London. This walk explores some of the City's most spooky ghost stories.
• Lost Monasteries of the City – A walk through the back streets of Fleet Street: the historic heart of the newspaper industry, to find the remains of the monastic orders which once prospered in the region, why and what happened after their departure.
• Mansions of the Embankment – Through Embankment Gardens, we'll hear about some of the great buildings which once lined the Thames and the unique artefacts which remain.
Each walk runs for approximately 2 hours.
Highlight tours are available of:
• Mayfair
• The City
• Southwark
Each lasting approximately 1hr 30mins and show off some of the most popular sights to visit.
Private tours or alternate locations are available at request.
Walks currently on Footprints of London:
Sat, 24 Feb
Description:
Walk through Highgate Village and hear the legends, myths and other dark tales which lurk along the paths, streets and gardens in this high up suburb.