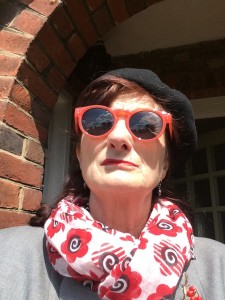 Contact 07963 778213 or mail tina.baxter@footprintsoflondon.com
Tina adores the City of London, and her lively presentation style provides enjoyable and informative walks.  She loves the history of early London – especially the Medieval and Tudor periods. Also enjoys modern architecture and has an interest in art as well as the many gardens and open spaces in the City, see 'Secret Spaces & Public Places'. Tina is also a volunteer with Friends of City Gardens who have recently completed a pop up garden at Barbican Station. The beautiful mosaic at Queenhithe was also a project Tina was involved with. Check out her walk 'Queenhithe – Medieval Port & Beyond'.
As a City of London Guide her walks are developing a consistent following especially 'Women Through Time' which varies slightly each year taking on board the theme chosen for International Women's Day. Tina is also qualified to Guide at the Guildhall Gallery.
On occasion she leaves the City to volunteer as a Guide for the National Trust at 2 Willow Road in Hampstead, the home created by Erno Goldfinger, modernist architect.
Tina also enjoys walking backwards! Something you need to do well when you dance Argentine Tango, which has been her passion for the last 15 years. Even though busy with guiding in the City, time can always be found to dance.
Tina Baxter is a City of London Guide  and a committee member of City of London Guides Lecturers', as well as a Freeman of the City of London.
Tina blogs on her own web site Miss B Takes a Walk
Her portfolio of walks include:
The Road to Runnymede – Magna Carta 800
Women Through Time – City Walk
Women Through Time – Fleet Street Walk
Guildhall Art Gallery & Roman Amphitheatre Tour
Secret Spaces & Public Places – City Garden Tour
Queenhithe Ward & Foreshore Walk
Queenhithe – Medieval Port and Beyond (excludes the foreshore)
Walbrook Where Art Thou? – tracing the path of the hidden river
Chaucer – Life & Times
T S Eliot – Walking the 'Wasteland'
Feasting & Fasting in the City – AD43 to 1603
Thu, 22 Jun
Description:
A famous poem, a famous City. Explore its streets by reference to The Waste Land a poem written by T S Eliot, using streets and buildings. Poetry reading in atmospheric locations.
Sat, 24 Jun
Description:
London Festival of Architecture : To explore the 'architecture' of the Unreal City in the light of the references and allusions with connections to the psycho-geography of the City that Eliot knew. Discussing the architecture of 'then and now', what would Mr Eliot make of the City of today?