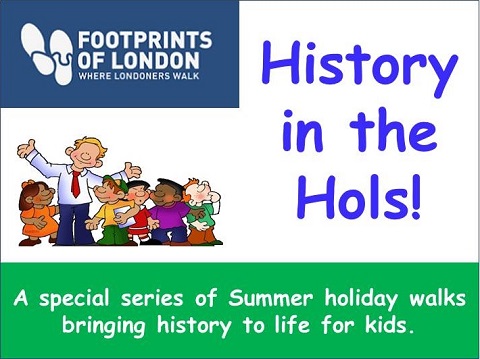 August is History in the Hols month, a special series of walks designed with kids in mind to get them out and about in the long summer break with some fun, immersive learning along the way.
There are a huge range of subjects covered, simply look for the History in the Hols logo, choose your walk and away you go!
And to help you make it a social outing we have a specially priced ticket for groups of four (minimum 2 children per group), so why not invite your child's friends and make a day of it? (with no entry queues!).

The current schedule is below, look forward to seeing you on the walks!
family walks
Sat, 4 Nov
Description:
Explore death and its management in the 2nd Millennium. Visit some of London's most ghoulish last resting places. Robert Bard in "Graveyard London" comments that "many hundreds of generations of Londoners lie beneath the City feet without us knowing"; this walk suggests they were the lucky ones..