Here be Dolphins (or Sturgeons)
Jill Finch looks at the story behind the dolphin lampposts on the Thames Embankment. You can find out more on her walk Urban Waters on 20th and 25th April – part of our River Walks Festival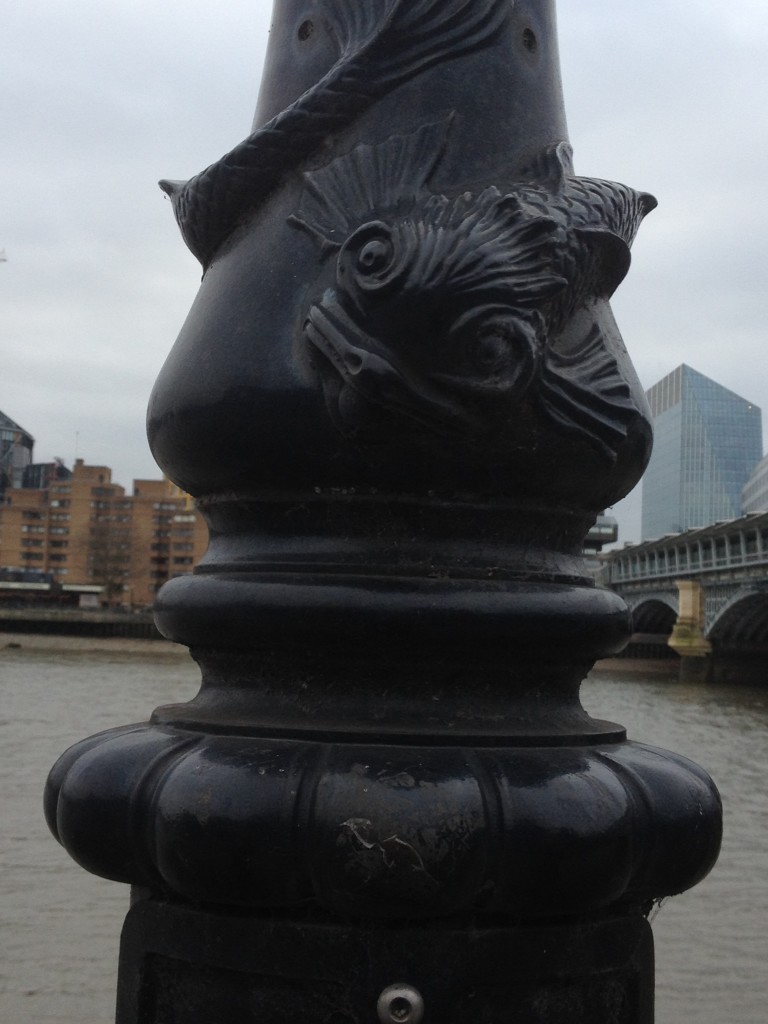 If you walk down the steps by the Millennium Bridge on the North Bank of the river Thames you will very probably stop to gaze across to the South Bank, taking in views of the Tate Modern art gallery and the new Globe Theatre.
But take another look at where you are actually standing. That lamp post.  Well it's just a lamp post isn't it?  Not quite – you have entered the Dolphin Zone.  
The entwined dolphins and the inscription EIIR have – like so many things in the City and on its riverbank – their very own story to tell.  
The original 'Dolphin Zone' was on the Victoria Embankment, where the lamps were designed by George Vuillamy in the 1870s.  These north bank lamps echo his designs and they are mirrored on the south bank of the river – oh and the dolphins are actually sturgeons!
So, it all started on the Victoria Embankment and Civil Engineer Sir Joseph Bazelgette's scheme to build a new road and sewage system for London.
The building of Victoria, Albert and Chelsea Embankments gave Londoners new places to stroll down by the river and, in order for them to stroll safely, lighting was needed.
When the idea was first discussed by The Metropolitan Board of Works various designs under consideration were published in the Illustrated London News and The Builder. 

The powers that be decided on the creation by George Vulliamy –  Superintending Architect of the Metropolitan Board of Works at the time (I'm sure this was just a coincidence …)
The cast-iron lamps feature two dolphins (or sturgeons) with their bodies wrapped around the lamp column and were apparently inspired by the dolphin sculptures on the Fontana del Nettuno in Rome's Piazza del Popolo. 
When Victoria Embankment was opened in 1868 it was celebrated in the press as enhancing London's status as the preeminent imperial city 'to which no other European capital presents a rival'.
Then, in 1977, City authorities had replicas placed on the North and South banks of the river to commemorate the Queen's Silver Jubilee, with 'EIIR' inscribed to honour Queen Elizabeth II.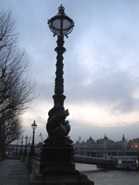 Additional lamp post trivia : 
* For a variation on the theme go to Chelsea embankment where you can see Joseph Bazalgette's lamp post with lion's paws 
* An elaborately design by Timothy Butler, cast by the Coalbrookdale Company, with climbing boys and overflowing cornucopias can still be seen on the Chelsea Embankment, but it was not deemed suitable for continuous repetition along the three miles of new riverfront. 
* Vulliamy also designed wrought iron furniture for the riverside including benches with sphinx and camel shaped armrests in honour of the arrival of Cleopatra's Needle – the ancient Egyptian obelisk gifted to London by Egypt in 1819. 
* In 2012 the Moorcroft Pottery produced a numbered edition vase designed by Paul Hilditch.  It is called 'London' and features the river with the lamp post in the foreground. 

It will cost you a mere £2,690
* In Westminster you could almost be persuaded that they have designer lamp posts when you see two intertwining letters "C" that we know so well as the Chanel logo.  Don't be taken in.  There's a "W" on the other side of the lamp post and together the letters stand for Westminster County Council …

You can enter the Dolphin Zone on Jill's walk "Urban Waters : The Thames and the City" – scheduled for 20th and 25th April in the Footprints Riverwalks Festival