The world's first underground electric railway
The world's first underground electric railway
December 18, 2015
Comments Off

on The world's first underground electric railway
You may recall the fairly recent celebrations for the 150th anniversary of World's first Underground railway which opened in 1863 and ran from Paddington to Farringdon.  But that was a steam railway and it took nearly another 30 years before electricity was used to power trains.
Friday 18 December 2015 marks the 125th anniversary of the opening to the public of the world's first Underground electric railway, yet another "world's first" for London.  Stephen Benton tells us more.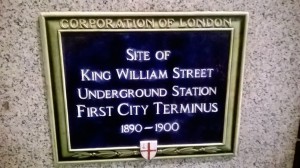 This first electric underground train line ran some 3¼ miles between Stockwell and King William Street and it was built by the City and South London Railway (CSLR).  However, it was almost not the first electric service.
The original plan was to haul the train by cables, like the system used by San Francisco's cablecars.  Unfortunately the cable contractor went bust before this plan came to fruition so, in a classic case of necessity being the mother of invention, the CSLR opted for electric-powered trains, a brand-new technology at the time.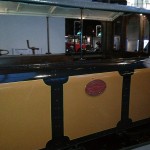 These first trains were much smaller than today's – as you can see if you go to the London Transport Museum, where they have preserved an engine and a coach of this first service. 
The coaches were – to say the least – quite claustrophobic as they had p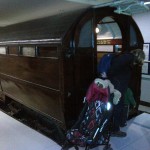 added seats almost to the roof with just a slit at the top for a window (Londoners, ever ready with the sharp wit nicknamed them "padded cells"), the reasoning being that, as the line was entirely underground, there was nothing for the passengers to see.
But this unfortunately also included not being able to see which station they were at when the train stopped…

There is, sadly, almost nothing left of this original line to see.  The original City terminus on King William Street was abandoned in 1900 when the line was extended north and we just have a plaque on a street near the Monument to remind us of this.
The running tunnels were enlarged in the 1920s when the line b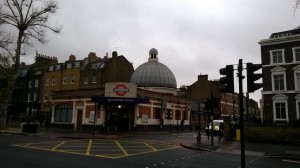 ecame part of what we now know as the Northern line, all the stations were rebuilt and the platforms re-tiled and lengthened.  It is believed, though, that the surface level station building at Kennington is the one remaining that looks anything like the original.
The railway was opened officially by Edward, Prince of Wales (later Edward VII) on 4 November 1890.  It was opened to the public on 18 December 1890, one hundred and twenty-five years ago today.
If you are interested in transport heritage, Stephen will be repeating his Victoria transport walk in January which tells the fascinating story of how Victoria developed as a transport hub.  Not only that, you will see some 100 year tile maps, an air terminal dating from 1939 and you will also find out why Green Line buses all have route numbers beginning with 700, so not just for anoraks!
You can check Stepehen's walks page for his up-to-date schedule and booking details