'Bertie learns how to write': The apprenticeship of HG Wells
'Bertie learns how to write': The apprenticeship of HG Wells
September 20, 2016
Comments Off

on 'Bertie learns how to write': The apprenticeship of HG Wells
With our annual Literary Footprints Festival just around the corner, Robin Rowles recounts some of the early endeavours of one of our greatest authors of science fiction.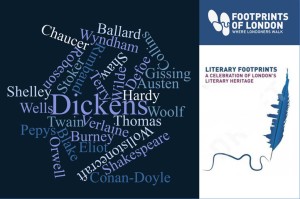 HG Wells is best known as the author of The Time Machine, The War of the Worlds and many other scientific romances. However, before penning these timeless works, Wells first had to serve his own 'apprenticeship in authorship'.
The Stolen Bacillus and other incidents was HG Wells's collection of short stories published in book form by Methuen & Co in 1895. Written between 1893 and 1895, these 'Scientific Romances' show Wells developing his writing style: Take one 'big idea' e.g. a rare but carnivorous orchid, and around this build a thrilling narrative highlighting possibilities and pitfalls.
Wells's romances first grabbed the public's attention as short stories in popular magazines: Pall Mall Budget, the Pall Mall Gazette, St James's Gazette and others. In 2001, these stories were reworked into a two-part television mini-series The Infinite Worlds of HG Wells (available on DVD), featuring actor Tom Ward as an aged Wells reviewing his life fifty years before (when Wells was just another struggling writer) and inserting him into a series of scientific adventures partly set in the laboratories of Imperial College, London.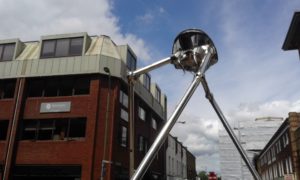 The Stolen Bacillus tells the story of an anarchist who steals a phial of experimental serum from a research laboratory near Chancery Lane, and pours it into the London sewers believing it to be a plague bacillus. The only effect, however, is to turn the anarchist and a couple of unfortunate cats bright blue!
In the TV mini-series the anarchist drops the serum into the London reservoir, but people don't turn blue, the effect is more dramatic. The stolen bacillus is actually a 'Universal Truth Serum' and anybody drinking London water is compelled to tell the truth, with predictably amusing and chaotic results: Wives throw out their husbands; police stations are rammed full of people confessing to crimes; and the British ambassador insults the French and war is nearly declared.
Order is finally restored after the effect wears off. Moral; don't drink the water!
Although The Infinite Worlds mini-series is entertaining, Wells's original short story format in The Stolen Bacillus collection is better.
It's also questionable if Wells would have approved of his stories being rewritten, because he considered his imaginative creations to be the finished article. After the infamous Orson Welles radio version of The War of the Worlds was broadcast in America in October 1938 and caused widespread panic, Wells reportedly telegraphed Welles and protested about the liberties taken with his work.
More episodes from HG Wells's colourful life can be heard on Robin's Martians, Miracles, and Time Machines: The London of HG Wells walk on the 2nd, 8th and 16th October as part of our Literary Footprints Festival, booking details on Robin's walks page.