The Queen and the Green
June 15, 2017
Comments Off

on The Queen and the Green
Dave Charnick recalls how a royal intervention helped stem the spread of deadly disease in Victorian Bethnal Green.  You can hear more stories from this most fascinating of London locales on Dave's walk The Battle for Bethnal Green this Saturday (17th June) at 2.30 pm.  Booking details are here.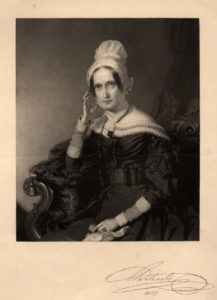 On Pollard Row in Bethnal Green a rather elaborate building can be found for such a small road. Built in a lavish Renaissance style, decorated with carved fruits and flowers, it has a highly decorative clock tower which features,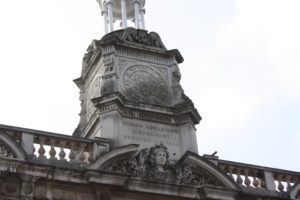 amongst other details, a bust of a woman. The inscription above her head enlightens you: the lady is the Dowager Queen Adelaide, and this is the (former) Queen Adelaide's Dispensary. Built by Lee and Long, a firm who specialised in medical and hospital buildings, the Dispensary (i.e. hospital) opened on this site in 1866, and was a response to the ravages of cholera on Bethnal Green.
In 1831, cholera reached England; by 1832 it arrived in London. A bacterial infection spread by infected water, cholera found itself at home in London, with its increasing population density and lack of sanitation. Bethnal Green was one of many parishes racked by outbreaks of cholera, with profiteering landlords packing families into single rooms and keeping their sacred profit margins uncompromised by installing luxuries like drainage.
During the cholera years, the connection between disease and bad sanitation was clear. In 1841 it was noted that poorly drained houses in parts of Bethnal Green were sometimes flooded to a depth of two feet. Cesspools were seldom cleared, and one open privy might serve fifty people. In 1848 physician and health inspector Hector Gavin published his Sanitary Ramblings, a damning house-to-house survey of Bethnal Green. At that time only 9% of streets and courts in Bethnal Green were listed as having sewers. Though the 1848 Public Health Act made house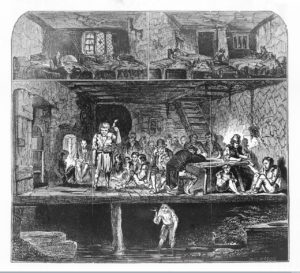 drainage into sewers compulsory, in 1850 only twelve houses were recorded as being connected to a sewer laid between Pollard Row and Shoreditch Church, a distance of around a mile.
Attempts to clean the area of 'nuisances' such as dung hills predate the arrival of cholera, with a woman searcher appointed as early as 1749 to search for 'nuisances'. In November 1832 the local medical board was actively clearing 'nuisances', the breeding ground of cholera. In 1848 an immense dunghill was blamed for a death from cholera at a sweep's house on the north side of the parish, by the Regent's Canal. The filth along the banks of the canal, condemned by thirteen local doctors but not cleared away, was the alleged cause of typhus, scarlatina and other fevers.
Cholera ravaged the East End from 1832 onwards. Bethnal Green suffered severe outbreaks in 1837 and 1838; by 1839 the average age of death in the parish was 25.8 years, with more than a quarter of deaths arising from epidemic disease. Young children were the principle victims. But when the epidemic of 1849 swept grimly across the East End, it killed 752 people in Bethnal Green; in 16 days 211 died of cholera in the notorious Nichol slum on the edge of the parish. The death rate was 90 per 10,000 inhabitants – in 1832-3 the rate was 50 per 10,000.
Despite this situation the vestry, the local government of the day, refused to establish a hospital, relying instead on sick visiting by the surgeon and apothecary from the workhouse. In 1831 Frederick Agar, the workhouse surgeon and apothecary since at least 1812, included in his claim for a salary increase a reminder that in 1830 he had 2,000 tickets to attend the outdoor sick besides those in the workhouse, and that he had to buy the drugs himself.
During cholera outbreaks, two 'fever wards' in the workhouse received some cases from the parish at large. Other patients were given such aid at home as was possible. In 1832 the vestry was granted £2,000 by the government for a cholera hospital. It spent the money on healthcare seemingly, but the hospital was not built.
The 1849 epidemic was to prove a turning point however. In that year the Dowager Queen Adelaide, widow of William IV and aunt of Queen Victoria, was drawing towards death, dying on 2 December 1849. Having undergone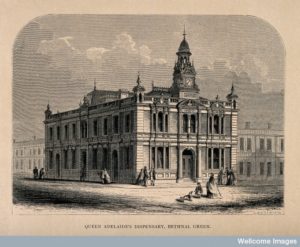 four pregnancies which resulted in no surviving children, it was clear that she would not produce an heir to the throne. However, she was a popular queen who bestowed much of her income on charitable causes. On her death she left a number of bequests, including £100 to the parish of Bethnal Green to found a cholera dispensary.
There seems to have been some difficulty in establishing the dispensary, but it opened in 1850 on Warner Place, just to the north of the surviving building. By 1865 though it was clear that a larger building was required and on 23 June the Reverend Edward Coke and eight others began raising funds. Coke had been vicar of the nearby church of St James the Great since 1852. He was a controversial man, offering free marriages to locals to address the issue of cohabitation. Such were his disagreements with the church authorities that they refused to provide a curate to assist him. Typically, the can-do Coke responded by advertising for donations to raise £2,000 to pay for a curate.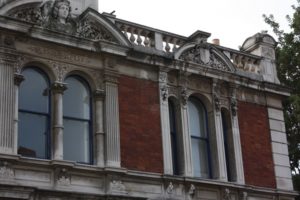 The new Dispensary building, costing £7,000, opened in 1866, just in time to meet another epidemic of cholera. While not as severe as the 1849 epidemic, still it resulted in a death rate of 60.4 per 10,000 of population. Out of 3,824 deaths in the parish that year, 614 were from cholera, over 16%. Such was the situation that by 1868 the Reverend Coke was again seeking funds to help fight disease. The significant result of the 1866 outbreak however was an increase in local healthcare, though still not from the vestry, which did not begin thinking about creating a hospital until 1889, and took eleven years to do so.
In 1866 the vicar of St Philip's, whose parish included the Nichol slum, appealed for help from the Islington-based Mildmay Deaconesses. This appeal led in due course to the establishment of the Mildmay Mission Hospital, at first in a slum cottage then, via a disused warehouse, in purpose-built premises in 1892. In 1988 it became a specialist HIV/AIDS hospice and, as The Mildmay, it still carries out this valuable work.
In 1867 two Quaker sisters, Mary Elizabeth and Ellen Phillips, rented a house near the Nichol, in Virginia Row, as a dispensary for women and children. Moving to much larger premises on Hackney Road it underwent a number of developments until in 1942 it was amalgamated with the Princess Elizabeth of York Children's hospital from Shadwell and became the Queen Elizabeth Hospital for Children. Sadly this is now defunct, its function having been absorbed by the new version of the Royal London Hospital, and the Hackney Road building has become a hotel.
Queen Adelaide's Dispensary itself, with the retreat of cholera before improvements in public health and sanitation, developed into a general hospital. In 1889 it is recorded as dealing with 6,656 medical and surgical cases and 3,248 dental cases. It only ceased to function as a hospital in 1961 when it became the Queen Adelaide's Charity. The Dispensary became a nurses' home for the Queen Elizabeth Children's Hospital in the 1970s, and was converted into flats in the 1990s, but the Charity still functions, providing grants to help the sick poor of Bethnal Green.
Picture Credits
Dispensary (detail) – © 2014 Ana Figueiredo

Dispensary – https://wellcomeimages.org/

'Lodging House in Field Lane' (Sanitary Ramblings) – https://hyperallergic.com/200035/coffin-beds-and-penny-sleeps-an-exhibition-on-victorian-homelessness/

Queen Adelaide in 1837 – http://www.npg.org.uk/collections/

St James the Great – http://www.rightmove.co.uk/

Dispensary (detail) – © 2014 Ana Figueiredo