Orwell In The Clink
September 27, 2016
Comments Off

on Orwell In The Clink
Next in our series of Literary Footprints 2016 posts, David Charnick recounts the young Eric Blair's early brushes with the law in the East End and how he put those experiences to use when creating one of the greatest novels of the 20th century.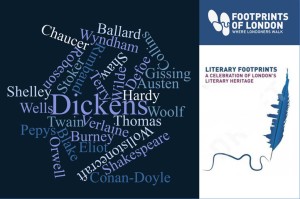 On the evening of Saturday 19 December 1931, a man was manhandled up the steps of Bethnal Green Police Station on Bethnal Green Road. He said his name was Edward Burton, that he had been sacked from his job in a draper's shop because of drunkenness and disowned by his parents for the same reason, and that he was getting casual work as a porter at Billingsgate Fish Market. He was then charged with being drunk and incapable and put into a cell, to await transportation to the Police Court on Monday.
But this malefactor was no fish porter who had come into some ready money as he claimed, but a young writer called Eric Blair.
From 1927 Blair had been immersing himself in the seamier side of East End life, sheltering in doss houses and living alongside people who were trying to scratch a meagre living. His experiences resulted in a number of articles, and ultimately formed the 'London' part of his first book Down and Out in Paris and London, published on 9 January 1933 (under the name of George Orwell to avoid embarrassment to his family).
In his article 'Clink', written in August 1932, Blair tells of his setting out for the Mile End Road in December 1931 with the intention of getting drunk so that he might be arrested and spend Christmas in prison. After drinking aquantity of beer and whisky on an empty stomach he got his wish, and two constables took him in.
Sunday in Bethnal Green Police Station seems however to have been relatively pleasant, and on Monday morning he was taken to Old Street Police Court.
After some time in a holding cell with a number of other malefactors, Blair was summoned to the courtroom. Taking the advice of a young duty constable, Blair pleaded guilty; he was fined six shillings which he couldn't pay, and confined for the rest of the day in the holding cell. That evening his property was restored to him, and he was thrown out into the cold Shoreditch night.
'Clink' tells how Blair tried again and again to get arrested, but to no avail. Nothing he did seemed to provoke the constabulary sufficiently, and he dared not commit a serious crime for fear his identity would be investigated. He was thus denied material for a further article, but the experience in the cells was not wasted.
A comparative reading of 'Clink' and George Orwell's dystopian novel Nineteen Eighty-Four, published in June 1949, shows how he was able to draw on his experiences to introduce the unnerving third and final section of his nightmare vision.
Following Winston Smith's arrest by the Thought Police, the relatively pleasant police station cell in Bethnal Green becomes the menacing cell in the Ministry of Love where he is held. The ever-lit light bulb becomes sinister hidden lighting; the spyhole in the cell door is transformed into four ever-watchful telescreens.
As he sits alone, Winston recalls the holding cell from which he was brought, which bears a distinct resemblance to the holding cell at Old Street Police Court, even down to the blocked and evil-smelling toilet.
Blair the investigative journalist may have been denied the chance of an article on the British penal system, but Orwell the novelist gained the material for a bridging section full of menace for one of the twentieth century's most important novels.
('Clink' was printed in An Age Like This 1920-1940, Volume One of The Collected Essays, Journalism and Letters.)
Find out more about Bethnal Green's literary connections on David's walk Bethnal Green in So Many Words on October 2nd and October 4th – part of our Literary Footprints Festival – our on-street Literary Festival celebrating London Books and authors.