All the World's a Stage
January 14, 2017
Comments Off

on All the World's a Stage
Dave Charnick charts the remarkable career of theatre impresario Sir Peter Daubeny and his contribution in bringing international theatre to London. You can discover more on Dave's walk Behind the Magic Curtain on February 2nd, booking details on his walks page.
In 1960 the Royal Shakespeare Company arrived at the Aldwych Theatre, intending to stay for two or three years while looking for a regular venue to which they could transfer productions from Stratford-upon-Avon. In the event they stayed until 1982. However, they were not at the Aldwych all year round, and in spring 1964 a theatrical impresario called Peter Daubeny used the empty theatre to produce the first of his World Theatre Seasons.
The first season featured three productions by the Moscow Art Theatre Company, two by the Comédie-Française, two by Germany's Schiller Theatre Company, as well as single productions from Peppino de Filippo's Italian Theatre Company, Dublin's Abbey Theatre Company, the Polish Contemporary Theatre Company, and the Greek Art Theatre Company. Seasons were to follow yearly, and they paved the way for a sustained presence of world theatre in London, and thus in Britain.
Daubeny's World Seasons at the Aldwych were dominated by European companies, but companies came also from further afield.
For instance, in 1967 there were two programmes of Japanese Nōh theatre, and in 1975 Robert Serumaga's Abafumi Players presented the Ugandan playwright's new work Renga Moi.
Possibly the most imaginative item was two programmes presented in 1968 by the Bunraku National Theatre, which had opened in Tokyo in 1966. Bunraku – a Japanese discipline of puppet theatre, with roots in the Kabuki style and a pedigree reaching back to Osaka in 1684 – had been in decline for over a century and a half, but was enjoying a resurgence in popularity.
The World Theatre Seasons were the culmination of Daubeny's commitment to bringing international theatre to the London stage. After wartime injury put paid to his nascent acting career (he lost his left arm at Salerno at the age of twenty-two) he decided to concentrate on management, and in 1945 he presented a production of Bertolt Brecht's English-language version of Prague-born Franz Werfel's last play Jacobowsky and the Colonel. During the 1950s, while bringing opera and ballet companies to London, Daubeny also arranged short seasons for French and other theatrical companies.
Daubeny's reach was broad: for instance, in the 1950s he showcased at the Stoll Theatre the Moscow State Dance Company, the Yugoslav National Opera and Ballet Company, and the London début performances of Antonio and his Spanish Ballet. (The Stoll Theatre was demolished in 1957; the Peacock Theatre stands on its site.)
The Palace Theatre, Cambridge Circus, was a regular venue for Daubeny's productions. As well as French companies, Daubeny presented eighteen performances there by Les Ballets Africains choreographed by its founder, musician and playwright Fodéba Keïta. Founded in 1952 in Paris, it became the Guinean national troupe when Guinea achieved independence from France. This visit was in 1956, the same year in which Daubeny brought Bertolt Brecht's Berliner Ensemble to the Palace with a mini-season comprising Mother Courage, The Caucasian Chalk Circle and Trumpets and Drums.
The politically sensitive nature of bringing some companies to London is illustrated by Daubeny's two Chinese residencies. On 25 October 1955 the Peking Opera Company began a three-week residency at the Palace Theatre under the billing The Classical Theatre of China.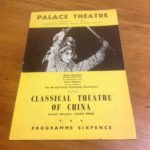 Daubeny had seen them at the Paris Theatre Festival in 1954, and it was the first cultural visit to Britain by a troupe from the People's Republic of China. However, concerns had been voiced about the visit's association with the Britain-China Friendship Association, a group with ties to the Communist Party of Great Britain.
But the visit proved successful, with the Peking Opera appearing at the Royal Variety Performance on 7 November, held at the Palace Theatre.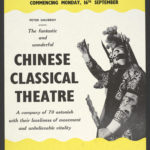 Two years later, another run of The Classical Theatre of China opened, this time at the Theatre Royal Drury Lane. This residency however was for The Operatic Group of the Republic of China. This company was formed in 1949 by members of the Original Peking Opera Troupe when they fled to Taiwan, along with the National Government of the Republic of China, after the Communist takeover on mainland China. Opening on 16 September 1957, the company took pains to stress the authenticity of their artistic legacy, including in the programme a statement claiming that Taiwan was the true inheritor of a Chinese theatre which had not been compromised by communist ideology.
Daubeny received a special award in 1971 at the Evening Standard Theatre Awards for his services to the theatre, and was knighted two years later. He was also accorded a number of awards from other countries, including an honorary chieftainship of the Natal Zulus. This honour was awarded for his presentation in 1972 and 1973 of the Natal Theatre Workshop Company's production of uMabatha, a reworking in an early nineteenth century Zulu setting of Shakespeare's Macbeth by South African playwright Welcome Msomi. At a time of apartheid, the production was a bold promotion of black South African culture.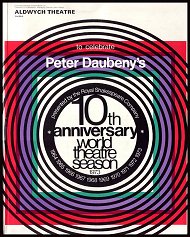 As Daubeny had presented his first international productions at the Aldwych in 1963 (two by the Dublin Gate Theatre and another by Vittorio Gassman and the Teatro Popolare Italiano), the 1973 season was promoted as the tenth anniversary season.

There was no 1974 season because of Daubeny's deteriorating health. The 1975 season ran between March and April, then on 6th August of that year Daubeny succumbed to a brain tumour.
He was fifty-four when he died. The fact that he himself was the driving force behind the World Theatre Seasons was amply demonstrated by there being no-one to present a season in 1974, and the seasons died with him.
Theatrical impresario Michael White, whose theatrical career started as an assistant to Daubeny, has stated in his autobiographical Empty Seats how much of a financial risk the World Theatre Seasons required. It is perhaps no surprise that no-one else was willing to take them on. The noted actor Peter Ustinov once claimed, 'It is a miracle, and a miracle which no British Government deserves, that Peter Daubeny exists, for he defies probability, and even possibility'.
The difficulties of Daubeny's work were experienced by Rose Fenton and Lucy Neal, who founded the London International Festival of Theatre as young graduates from Warwick University. Their struggles were assisted by high-profile patrons such as Peter Ustinov and Lady Molly Daubeny, Sir Peter's widow. Fenton and Neal maintained Daubeny's belief in success in the face of adversity to present the first festival in 1981, featuring artists from Brazil, Poland, Malaysia, Japan and the Netherlands performing alongside British artists in venues across London. LIFT still happens every other year.