David Charnick reveals the source of a favourite Fleet Street watering hole of the legendary TV barrister, Horace Rumpole.  You can find out more about John Mortimer's real life City-based inspirations for his Rumpole stories on Dave's walk, Rumpole and the Legal Life, dates and booking details are on his walks page.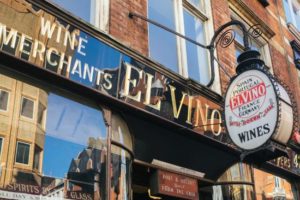 "I thought with a momentary distaste of the bit of barren soil, no doubt placed between the cowshed and the pissoir, where the Château Pommeroy grape struggled for existence." ('Rumpole and the Blind Tasting' 1987)
Horace Rumpole, barrister at law and Old Bailey hack, muses on the wine he is drinking while his fellow barrister Claude Erskine-Brown rhapsodises about the joys of wine appreciation. Rumpole is in Pommeroy's Wine Bar, Fleet Street, taking the edge off of a hard day in court with a glass of Pommeroy's Very Ordinary.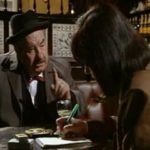 Though always keen to point out that the wine keeps his bowel movements "astonishingly regular", Rumpole is under no illusions about the quality – or lack of it – of his customary tipple. He drinks Château Thames Embankment, or Château Fleet Street, because it's all he can afford, and because Jack Pommeroy is always prepared, however reluctantly, to put Rumpole's drinks 'on the slate' until the next Legal Aid cheque comes in.
Pommeroy's is one of Rumpole's refuges from the domestic bliss of his flat off of the Gloucester Road, which he shares with his wife Hilda ("She Who Must Be Obeyed"). Pommeroy's Wine Bar is, like Rumpole himself, the creation of John Mortimer, author and barrister. But it was not conjured out of the air. Rather it is Mortimer's version of El Vino, Fleet Street.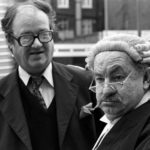 Nowadays, El Vino is as calm as Fleet Street itself; in many ways it is just another City wine bar. But once it was at the heart of the heaving, twenty-four hour madness that prevailed when Fleet Street was the focus of the British Press. It was a place where barristers and journalists rubbed shoulders, both professions thriving on what Rumpole himself calls "human fallibility". Thus El Vino was a hotbed of gossip, particularly around its bar at the front of the establishment.
Famously journalist Anna Coote and solicitor Tess Gill took El Vino to court in 1982 over its ban on serving women at the bar, banishing them to the back room.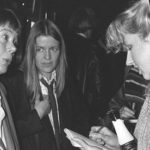 Gossip formed an important aspect of the case. Lord Justice Griffiths, one of the judges in the Court of Appeal, referred to El Vino as one of Fleet Street's famous 'gossip shops', and stressed that denying female journalists access to the bar area was harming their careers by denying them the chance to pick up this gossip.
The Fleet Street branch of El Vino opened in 1924 in a former hall of mirrors, but the firm was well established by this time. It began in 1879 when wine merchant Alfred Louis Bower opened his first premises in Mark Lane, near Tower Hill, an area associated with the provisions trade because of its closeness to the docks and the river.
Bower decided to have a tasting room in his shop. From this tasting room a small chain of four bars emerged, three in the City (Fleet Street, Martin Lane and Gutter Lane) and one on Piccadilly Place. Martin Lane and Fleet Street are still there, and have been joined by later bars.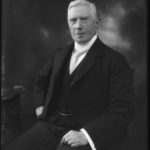 The son of a wine merchant in Highbury, North London, Alfred Bower had civic ambitions beyond his business life, being elected as a Common Councilman of the City of London in 1896. This may explain why, though he traded initially under his own name, Bower changed the company name from Bower and Company to El Vino sometime before 1906. This is the first time the Post Office Directory lists it as El Vino Wine and Spirit Merchants. The company's website claims that trading under his own name would have hindered Bower's civic ambitions.
There is no regulation preventing Aldermen of the City from trading under their own name, so perhaps the Court of Aldermen made a recommendation for reasons of their own which were not recorded. Whatever the reason for the change, Bower became a Sheriff of the City in 1913, an Alderman in 1918, and in 1924 he was elected Lord Mayor. His year as mayor was marked by some firsts, one of which was that he and both of his Sheriffs were Roman Catholics, the first time this had occurred since the Reformation. Also, while visiting France Bower was given the Freedom of Verdun, becoming the first Englishman to be presented with the freedom of a French city.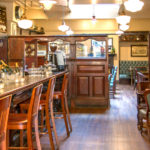 As his civic career took off, Bower's wine business was taken over by his nephew Francis, who imposed the practice of never selling wine he did not consider ready to drink.
Francis was himself succeeded by not one but two nephews, brothers Christopher and David Mitchell, although Christopher and his two sons bought out David's interest in the business in 2001 after a family feud. Curiously it was David's son Andrew Mitchell who was in trouble in 2012 because of allegations of calling a policeman a 'pleb'.
The four generations of family ownership of El Vino ended in 2015 when the chain was bought by another family firm, Davy's, started in 1870 by Francis Edwin Davy at the Rising Sun on the Strand (demolished in 1902). Just as the newspapers began leaving Fleet Street in 1986, bringing to an end the continual jostling for news, so the only journalists to frequent El Vino on Fleet Street now will be on their way to or from a commemorative service at St Bride's, the journalists' church near Ludgate Circus.
(Authors note: I am indebted for their invaluable assistance to Stephen Freeth of the Worshipful Company of Vintners, and to Paul Double, City Remembrancer, City of London Corporation.)
Picture credits:
El Vino, Fleet Street: TripAdvisor, https://www.tripadvisor.co.uk
Rumpole in Pommeroy's: A Boat Against the Current http://boatagainstthecurrent.blogspot.co.uk
John Mortimer and Leo McKern: BBC News http://news.bbc.co.uk
Alfred Bower: National Portrait Gallery, https://www.npg.org.uk
Tess Gill (l) and Emma Coote (r): the Guardian, https://www.theguardian.com
El Vino interior: El Vino, http://elvino.co.uk/