Please read our FAQ page for general terms and conditions of booking and cancellation/refunds policy.

Seen a walk you want to go on but can't make the date?  You can choose your own date and time for any of the walks you see on our website by booking it as a private tour.
Society walks
Sat, 27 May
Description:
One of London's top walks - around Deptford following in social researcher Charles Booth's footsteps
Fri, 2 Jun
Description:
The greatest Prime Minister of our time. Get to know the man behind the achievements.
Fri, 2 Jun
Description:
Meet the conspirators and learn how a plot to overthrow government was foiled.
Sat, 3 Jun
Description:
1649: Relations between Monarchy and Parliament are non-existent following the English Civil War and lead to the most important negotiations ever known. This walk looks at the people involved and whether any of them could provide Strong and Stable Leadership to a country facing major change.
Sat, 3 Jun
Description:
While many prospective MPs may be sweating over their electoral prospects based on their position on Brexit, the wrong call over which side you were on of Henry VIII's "Brexit" had rather more drastic consequences… Join me to trace down the locations that tell the stories of those turbulent times.
Sun, 4 Jun
Description:
Winston Churchill had to win an entirely different battle to give him the mandate to ruleduring the war, this one against the establishment who wanted a different leader to fight the Nazis. If Churchill won then Britain would fight on, if he lost then Britain would surely lose the war.
Mon, 5 Jun
Description:
Follow the Stuarts' turbulent journey through conspiracy, civil war, execution, abdication and revolution and hear about the struggles between King and Parliament over who should have the mandate to rule.
Tue, 6 Jun
Tue, 6 Jun
Description:
The Civil Wars were a major factor in the creation of modern Britain. This walk explores how the City of London was involved and the impact of the Civil Wars on parliamentarian, royalist and the ordinary citizens of London.
Wed, 7 Jun
Description:
Woman. Wife. Mother. Prime Minister. Look beyond the politics.
Thu, 8 Jun
Description:
In 1810 South American Revolutionaries came to London to try to get the British to help them gain independence from Spain. This walk through Fitzrovia looks at what happened next.
Thu, 8 Jun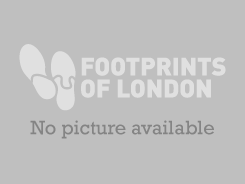 Sat, 10 Jun
Description:
The Isle of Dogs has rich history of public housing. But private housing has come to dominate the Island in just a generation, Discover how much of the islanders' public housing tradition survives in this fascinating tour, ending near Mudchute DLR.