And you can quote me on that!
And you can quote me on that!
October 7, 2015
Comments Off

on And you can quote me on that!
With the first event of Literary Footprints Festival less than 24 hours away, as a little taster of what you can expect some of our guides have suggested their favourite quotes that they will be pressing into service on their walks.  Not surprisingly, they have come up with as fascinating and diverse a selection as the walks themselves, so, without any further ado, over to the team!
Literary Soho, Sun 11 October and Tues 20 October
St. Pancras in Literature, Film and Drama, Sun 11 October and Sun 18 October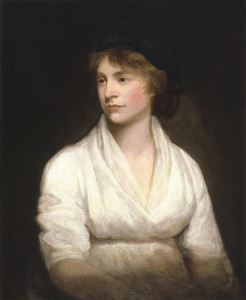 I've chosen Mary Woolstonecraft from my St Pancras walk and the quote is from her biographer – Claire Tomalin, trying to explain why Mary never achieved the widespread public recognition her work merited.  Tomalin petitioned Camden Council to have a plaque put up for Wollstonecraft at the site of her old residence, The Polygon in Somers Town but she is of the view that Mary's polysyllabic surname impeded public awareness of her work:
"…those three syllables defeated too many people."
Life & Times of Jane Austen's Emma, Fri 9 October and Fri 16 October
As I dress in full costume to create the right atmosphere for my Jane Austen's Emma walk, I though it only appropriate to choose a quote that talks about the air.  This is Isabella speaking to her father about the air of Brunswick Square:
"You must not confound us with London in general, my dear sir. The neighbourhood of Brunswick Square is very different from almost all the rest. We are so very airy!"
Ray Blackburn, Neil Sinclair and David Brown
Act 1 – Shakespeare in Shoreditch, Sat 17 Oct
Act 2 – Shakespeare on Bankside, Sat 17 Oct
Act 3 – Shakespeare in the City, Sat 17 Oct
Shakespeare & Co in Clerkenwell, Sat 24 Oct
Three of our guides combine their efforts to tell the story of Shakespeare's odyssey through London in a single day (don't worry, the walks run consecutively so you can follow the full odyssey yourself!) and continue to follow his story to Clerkenwell a week later.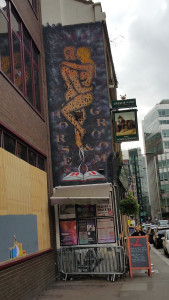 Act 1 visits the site of the Curtain Theatre and as the theatre is unfortunately long gone to be replaced by a hostelry called the Horse & Groom, what better choice than this line from Romeo and Juliet (which was first performed there)?
 "What's in a name, anyway? That which we call a rose by any other name would smell as sweet"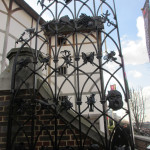 Act 2 visits the Globe Theatre and the play which caused the theatre to burn down was Henry VIII, so this line from the play seems apposite:
"Some come to take their ease, and sleep an act or two"
The journey north into The City of London for Act 3 visits the site of The Blackfriars Theatre where The Tempest was first performed which Shakespeare probably thought (wrongly as we know now) would be his last play. He was ill and thought he was dying – possibly of a venereal disease, so this line from the play seems to fit that bill:
"I'll break my staff, bury it certain fathoms in the earth"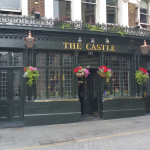 Which leads us finally to Clerkenwell where we visit The Castle pub, the former site of Cupid's Arrow.  This was a brothel owned by George Wilkins, Shakespeare's collaborator in Pericles, so the appropriate quote here is from one of the Dark Lady Sonnets:
"My mistress' eyes are nothing like the sun"
One of the many candidates for the Dark Lady is Black Luce, a well known bawd who lived in this area.  Given that Shakespeare is known to have lived nearby it is very likely he knew the area and was aware of her.
Samuel Pepys' Diary, Thur 15 Oct and Sun 25 Oct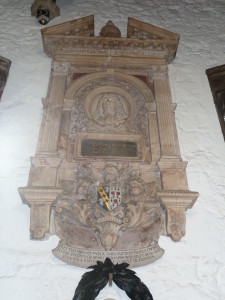 One of my favourite quotes shows what a snob Pepys was. On November 11, 1660 he visits St. Olave's Church and writes:
"There being no women this day, we sat in the foremost pew and behind us our servants; but I hope it will not be always so, it not being handsome for our servants to sit equal with us."
A Walk on the Wild Side, Tue 13 Oct and Tue 20 Oct
Pall Mall was the first street in Europe to be lit by gas and Byron chose to make specific reference to it in Don Juan:
"The line of lights too, up to Charing Cross,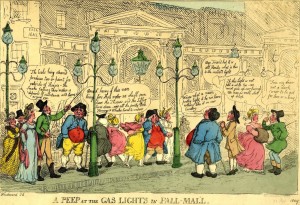 Pall Mall, and so forth, have a coruscation
Like gold as in comparison to dross
Match'd with the continent's illumination,
Whose cities night by no means deigns to gloss"
A Picture Tells a Thousand Stories, Sun 11 Oct and Fri 23 Oct
Shakespeare & The Age of Garrick. Sun 25 Oct
I chose these lines from Thomas Moore as I think it rather sums up the whole experience of a Footprints walk both to us as guides and hopefully to the people who go on our walks. London has a haunting quality through its people, buildings and experiences which is why we love it and hopefully that shows on the walks, both in terms of where we go and where we "rest" to tell our walkers the stories we've uncovered as part of the experience
"Go where we may, rest where we will,
eternal London haunts us still"
Sherlock Holmes – the Return, Thur 8 Oct
Stuart's First Walk, Fri 16 Oct
Mayfair's Bright Young Things, Weds 21 October
Walk Wilkie's Way, Sat 24 Oct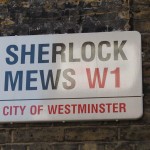 This quote intrigued me. I immediately wanted to discover the route they had taken. I could almost feel myself accompanying Holmes and Watson, tracking down a murderer, as I set off on my exploration of the mews and back streets of Marylebone:
"Holmes's knowledge of the byways of London was extraordinary, and on this occasion he passed rapidly and with an assured step through a network of mews and stables, the very existence of which I had never known." (The Adventure of the Empty House)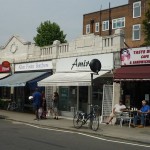 The idea of randomly picking a street from the A-Z as the starting point for a walk appealed to me. I just had to go and see North Pole Road for myself. I was amazed to find that very little had changed in the almost two decades since the book was written as I found myself following jaded tour guide Stuart London around the streets of North Kensington:
He knew he had to begin somewhere and he knew that in one sense any place was as good as another, but he scanned the index of his A-Z looking for a street name that sounded appropriate. His eyes fell on a line that read North Pole Road. The next day he went there and started his walk." (Bleeding London)
Like most people, at the mention of Berkeley Square, a song about a nightingale starts running through my head. I was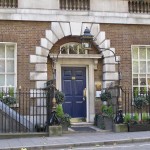 fascinated to discover that this 1920s short story was probably the inspiration behind this song. But what I like best is the emphasis on the sobriety of the "poet, critic and commentator" who heard it. In the heady world of the Bright Young Things in 1920s Mayfair this would have been a rare condition!
"There is a tale that is told in London about a nightingale, how it did this and that and, finally, for no apparent reason, rested and sang in Berkeley Square. A well-known poet, critic and commentator heard it, and it is further alleged that he was sober." (These Charming People)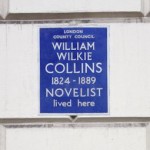 As I followed Wilkie Collins around Marylebone, where he was born and lived for most of his life, I could imagine him walking this way himself, back to the house he shared with his mother and brother in Hanover Terrace:
"He crossed the road and walked towards the western boundary of the Regent's Park. I kept on my own side of the way, a little behind him, and walked in that direction also." (The Woman in White)
Print and the Press – Exploring Fleet Street, Tue 13 Oct and Thur 22 Oct
Shardlake's London, Thur 15 Oct and Tue 20 Oct
The City by the Book, Sun 18 Oct and Sat 24 Oct
John Gay's self-mocking couplet follows the epitaph that Alexander Pope wrote for his tomb. Gay, who features in my City by the Book walk, made a fortune from his writing then lost it all in the South Sea Bubble.
"Life is a jest and all things show it,
I thought it once and now I know it"
Dickens After Dark: In the Steps of the Night Walker, Tue 13 Oct and Wed 21 Oct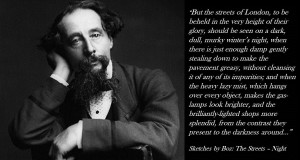 The one in the accompanying picture is pretty self explanatory, but for me the most telling Dickens quote about how inspirational London was to him is not from any of his essays or books, but in a letter he wrote to his friend and biographer John Forster.
In August 1846 Dickens and family had holed up in Lausanne so he could set about writing Dombey & Son, but these extracts from one of his letters to Forster show quite to what extent the strain of being so distant from his favourite muse was getting to him (to the point that a man of his literary standing apparently resorted to CAPITALS and a double exclamation mark!!):
"For a week or a fortnight I can write prodigiously in a retired place (as at Broadstairs), and a day in London sets me up again and starts me. But the toil and labour of writing, day after day, without that magic lantern, is IMMENSE!!…
…My figures seem disposed to stagnate without crowds about them"
Mrs Dalloway's Day, Weds 14 Oct
London Destroyed, Thur 15 Oct
A Journal of the Plague Year, Thur 22 Oct
Has to be this one from Virginia Woolf, says it all really…:
"I love walking in London," said Mrs. Dalloway. "Really it's better than walking in the country."
From Bread Street to St Paul's': The Odyssey of John Donne, Sun 18 Oct and Sat 24 Oct
Sherlock Holmes of London, Sun 18 Oct
In this famous line from his poem Meditation, Donne is saying we are all mankind and we are, or should be, involved and interested in mankind. It's probably Donne's most famous quote but often misquoted as 'Ask not for whom the bell tolls' and for me it summarises all of Donne's confused, up and down, multifaceted life. At the end of the day, we're all human:
"Send not for whom the bell tolls; it tolls for thee"
In this quote from The Man with the Twisted Lip Holmes is telling us to identify the small clues on which large inferences hang. Details are important, nay, vital, if we are to succeed at anything:
'It is, of course, a trifle, but there is nothing so important as trifles'.
Clerkenwell's Literary Connections, Thur 15 Oct
Literary Covent Garden. Towards A New Sensibility, Thur 22 Oct
My Clerkenwell walk takes a rounded view, encompassing not only the locations used in books and locations where authors lived, but also the printing and publishing innovations pioneered there. One of my favourite writers from Clerkenwell is Margaret Cavendish, Duchess of Newcastle who wrote the first English science fiction book in 1666 and who was famous for her intellectual and literary salons.  Always ready with a Dorothy Parker-esque aphorism she once quipped:
"Marriage is the grave or tomb of wit".
The next one is, for me, the perfect expression of why some of us are dyed in the wool urbanites. Wordsworth has invited his friend Charles Lamb (who features on my Covent Garden walk) and his sister Mary to stay in Cumbria with him and his sister. This was Lamb's coruscating reply:
"London, January 30, 1801
I ought before this to have reply'd to your very kind invitation into Cumberland. With you and your Sister I could gang anywhere. But I am afraid whether I shall ever be able to afford so desperate a Journey. Separate from the pleasure of your company, I don't much care if I never see a mountain in my life. I have passed all my days in London, and I have formed as many and intense local attachments, as any of your mountaineers can have done with dead nature. The lighted shops of the Strand and Fleet Street, the unnumerable trades, tradesmen and customers, coaches, waggons, playhouses, all the bustle and wickedness round about Covent Garden, the very women of the Town, the watchmen, drunken scenes, rattles;— life awake, if you awake, at all hours of the night, the impossibility of being dull in Fleet Street, the crowds, the very dirt & mud, the Sun shining upon houses and pavements, the print shops, the old book stalls, parsons cheap'ning books, coffee houses, steams of soup from kitchens, the pantomimes, London itself a pantomime and a masquerade, all these things work themselves into my mind and feed me without a power of satiating me. The wonder of these sights impels me into night walks about the crowded streets, and I often shed tears in the motley Strand from fullness of joy at so much Life".
Made in Chelsea, Mon 12 Oct and Sat 24 Oct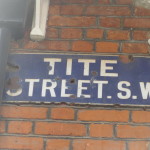 The year is 1889. It is a grey wet morning and Oscar Wilde is looking out of his house in Tite Street, Chelsea. He sees famous actress Ellen Terry arrive in an open top carriage dressed as Lady Macbeth for her sitting with the painter John Singer Sargent who lives over the road. Wilde says the street can never be the same again:
"It must always be full of wonderful possibilities"
And The Street of Wonderful Possibilities is the title of a recent book all about Tite Street and its residents – not many London streets can claim to have their own biography!
1984 London, Tue 13 Oct, Tue 20 Oct and Sat 24 Oct
These quotations from Orwell's masterpiece both come from the same paragraph and occur early in the book.  They help set the scene for the squalor of Orwell's totalitarian London, but the text is fascinating since it also describes the post-war London he himself experienced.  In Orwell's 1984, nothing seems to have been repaired since the 1940s!
"This, he thought with a vague distaste -this was London, chief city of Airstrip One, itself the third most populous of the provinces of Oceania…
…Were there always these vistas of rotting nineteenth-century houses, their sides shored up with baulks of timber, their windows patched with cardboard and their roofs with corrugated iron, their crazy garden walls sagging in all directions?"
T S Eliot – The Wasteland in the City, Sat 10 Oct
Chaucer – His life and work in the City of London, Mon 19 Oct
A suitably poetic reference from TS Eliot's The Wasteland to one of the most beautiful churches in the City of London:
'"Of Magnus Martyr hold inexplicable splendour of Ionian white and gold"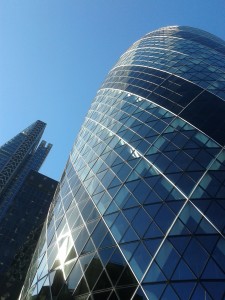 From 1374-86 Geoffrey Chaucer lived in an apartment above Aldgate whilst he was employed as a customs official and would have been very familiar with the area around Leadenhall Market.  Standing on the corner of Leadenhall Street and corner of Whittington Avenue today, you can see the current Leadenhall Market to the right, but you are towered over by the glass and steel edifices that so characterise the modern City of London (chief among them Richard Rogers' Cheesegrater , The Gherkin and beyond Leadenhall, the Walkie Talkie).
In House of Fame, his treatise on the nature of sound waves (thought to have been written around 1380), Chaucer included this utterly remarkable prediction of what was to become of an area with which he was so familiar:
"I dreamt I was within a temple made of glass with many a pillar of metal"
The full Literary Footprints Festival walks programme is here and we hope these little tasters will have inspired you to join us.  Enjoy the walks!