Kings and Queens in London – Edward I
Kings and Queens in London – Edward I
May 2, 2016
Comments Off

on Kings and Queens in London – Edward I
Our series looking at the legacy of Kings and Queens in London continues with Edward I.
Edward I was in Sicily returning from fighting the crusades when his father Henry III died in 1272. Edward and his wife Eleanor, who he had married at the age of 15, made a very leisurely return to London, where Edward was crowned nearly two years later in 1274.
By 1277 Edward had started the invasion of Wales, which, combined with the subsequent castle building, was an expensive undertaking. One source of revenue was from Italian bankers from the Lombardy region, who lent money to the crown and handled customs duties.
As part of their reward they were granted land in the City of London – the street still known as Lombard Street.
Here the Lombardy bankers arguably invented modern banking on that street; terms like Credit, Debt and Usance were said to be instituted by the Lombardians.
Indeed, the word "bank" itself is commonly believed to have derived from the Italian word banco, the market stall-type tables/benches the Lombardians traded off, so Edward's reign could be seen as the start of the City of London's connection with banking.
Henry III exploited the Jewish community for money during his reign, and the situation only gets worse during Edward's reign.
In 1275 a new Statute of the Jewry is issued – Jewish people were forbidden to lend money, debts owed to them were cancelled and they were only allowed to earn a living in certain crafts or as farmers.
Not many bankers today could instantly switch to making a living as a farmer, especially if they also had the restriction of living only in London or a few other towns, so its easy to imagine what hardship the Statute of Jewry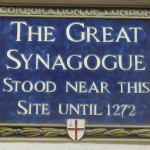 caused. In addition all Jewish people had to wear a yellow star badge and were forced to pay additional taxes.
Christians were forbidden to live among Jews so effectively a Jewish area of the City built up – marked today by the street Old Jewry – you can see the plaque to commemorate the Great Synagogue there.
By 1290 Edward had no further use for the Jewish community – he had confiscated all their wealth, so in 1290 another act was passed formally expelling Jews from England. Jewish people were not formally permitted to return until 1655, and prior to the expulsion around 300 Jews were executed.
Edward was devoted to his wife Eleanor of Castille, and they had sixteen children, but in 1290 she died of fever in the village of Harby near Lincoln (they had been married 36 years).
Edward had Eleanor's body taken back to London and on each night that they paused ordered a memorial cross to be erected. They halted at two places in London, at Cheapside – the cross here was pulled down in 1643 but you can see parts of it in the Museum of London, and the place now known as  Charing Cross.
The cross that currently stands in the forecourt of Charing Cross Station is a Victorian copy (the original cross stood at the end of Whitehall at the spot where the statue of Charles I on horseback now stands). Charing Cross was the spot from where distances from London were measured, so when you drive down the Motorway and it says London 50 miles, that is the distance from the spot where Edward I's wife's funeral procession paused. You can still see one of the original Eleanor Crosses at Waltham Cross just outside London.
In 1296 Edward took advantage of the succession crisis in Scotland to install a puppet ruler in John de Baliol, and then launch a full invasion of Scotland.
Edward's army seized the Stone of Destiny – the stone on which Scottish Kings had been crowned for hundreds of years, and incorporated it into a Coronation throne in Westminster Abbey. You can still see Edward's throne, but the Stone of Destiny (also known as the Stone of Scone) was returned to Scotland in 1996.
After a year of English occupation the Scots rebelled under William Wallace, and although events were nothing like they were told in the film Braveheart, Wallace was captured, taken to London and hung drawn and quartered. The spot in Smithfield is marked by a memorial that still receives regular floral tributes.
Edward I is famous for putting Magna Carta on his statute books making it law, including the clause confirming all the City of London's rights and liberties and customs. But he wasn't always so favourably inclined towards the City.
In 1285 the now King Edward had another Mayor, Gregory de Rokesley imprisoned in the Tower, who objected to being summoned to the Tower without the notice traditionally given (Traitor's Gate is another addition to the Tower of London built during Edward I's time).
He handed back his seal of office and attended as a private citizen, Edward had him duly arrested and installed Ralph de Sandwich as Royal Warden.
Of course, in 1297 when Edward made Magna Carta and granted all those rights of the City law he needed money for his war chest. This copy of the Magna Carta is kept at Guildhall Art Gallery and is occasionally on display in their heritage gallery.
Surviving buildings from Edward I's reign include St Etheldreda's in Ely Place, now part of a row of offices, but which when built was part of the Bishop of Ely's palace.
As bishops had to sit in parliament they usually kept a London residence, and the Bishop of Ely's palace was outside the jurisdiction of the City. For this reason, until 1965 the street was part of Cambridgeshire, and business in the street still occasionally get mail addressed to Ely Place, Holborn, Cambridgeshire.
St Ethelreda's is well worth a visit – it has many historical connections and some stunning modern stained glass windows.
In 1306 Robert the Bruce, formerly an English ally, declared himself King of an independent Scotland and Edward headed North again for one last brutal campaign against the Scots.
In 1307 he fell ill and died of dysentery. His body was taken south where it was placed in a simple sarcophagus in Westminster Abbey – where you can still see it today. In 1774 his tomb was opened by the Society of Antiquaries to reveal a Purbeck marble coffin in which lay the King wrapped in a waxed linen cloth, his face being covered by crimson face cloth. Below this the King wore his royal robes, holding a rod and sceptre and wearing a crown on this head. Below these robes there was a closely fitting wax cloth. He was found to be 6′ 2″ tall: hence his nickname Longshanks.  William Blake attended the opening and sketched the body.
Edward I's 32 years on the throne are characterised by brutal wars against Scotland and Wales and oppression of Jewish people, so perhaps its no great surprise that he doesn't have a pub named after him. If you want to drink his health you can visit the Greyhound Inn in Burgh by Sands near Carlisle which is where he died.
In London, if you are entering the branch of Byron in High Holborn opposite the tube station, look up. On the left of the building is a statue of Edward I erected in 1902 to commemorate his much more peaceful namesake Edward VII who is on the right. A fitting place to end a journey around Edward I's London.
You can always find out more on our walks.
Coming next; Edward II.
Article written by Rob Smith with contributions from Jill Finch, Mark Rowland, David Brown, Neil Sinclair, David Charnick, Jen Pedler and Sean Gay.